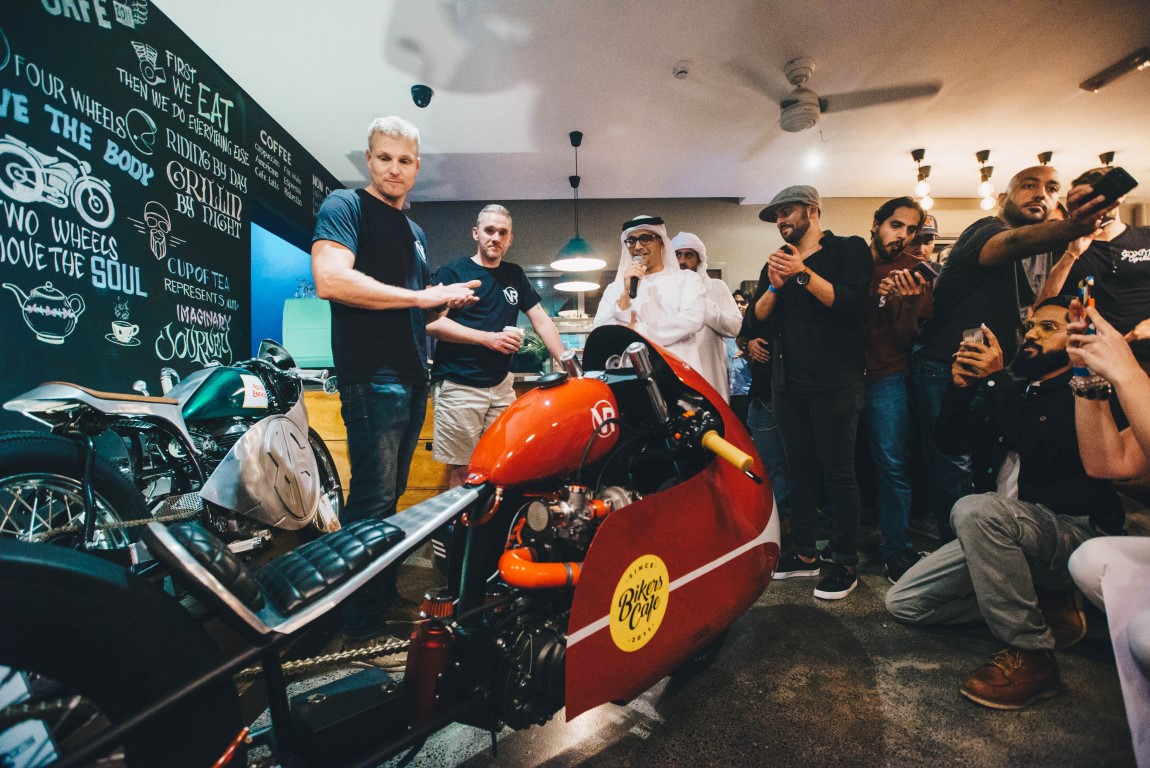 Third Bikers Café Build-Off
The third Bikers Café Build-Off Competition saw Vendetta Racing Dubai, Bikers Oasis and Al Ain Customs, unveiling their unique custom motorcycles at the recently renovated venue at Bikers Cafe. Trios of Hero Thriller motorcycles were handed over to the builders, and they had until October 20th to build their vision of a custom motorcycle with the only prerequisites being that the original engine had to be retained, along with full functionality. The event got underway from 5PM with bikers and fans slowly occupying their tables and getting ready for the big reveal. Our BBQ was back with a bang for the new season, with people lining up to grab their grub. Bomberg was once again on display with some unique watches, and high-end models. A Big shout out to Bomberg Middle East.

People waited with bated breath as the covers were taken off, and were treated to three absolutely stunning and creative motorcycles; custom projects that reflected the immense creativity and hard work behind each build. Al Ain Customs arrived much later as they had a few issues with their custom bike, but they made it just in time, getting a round of applause from our guests.
VR Customs had a very unique build with plenty of custom components, while Bikers Oasis also turned up with an innovative and beautifully built Arabic themed custom bike with the first ever Arabic Speedometer gauge in the world. Even though they came in late, Al Ain Customs also wowed the crowds with their unique project. It was clearly evident from the cheers that guests had a hard time choosing favourites, as all three bikes boasted a unique vision, incredible workmanship and fantastic detailing making the job of our judges even tougher.

We would like to thank our esteemed judges, Omar Al Tamimi, Sebastian Husseini and Del Gasan for their time and effort to be a part of the event. The judges took about an hour to comprehensively scrutinize the bikes, followed by comparing views behind closed doors. Everyone was waiting to know the scores, with the teams anxiously checking every now and then to see if the judges were done. With great difficulty, the judges finally settled their remarks and judgments.

A big shout out to Marc Roissetter (VR Customs) for coming in first and also achieving the People's Choice Award, followed by Hamad AlRemeithi (Bikers Oasis) in second and Hassan Alboushi (Al Ain Customs) in third. Hamad was satisfied with his results as he was running out of time for his bike build but finally made it and took his place, with guest and fans being surprised with his build and the creativity gone into it.
Congratulations to all the builders and we look forward to working with them in the future for inputs to our next Build Off competition. A hat tip to Bike Nation Magazine, Emirates Bikers Magazine, all the motorcycles groups and car clubs such as Corvette UAE Club, The Vipers Club UAE, that were present that night, for their ongoing support.