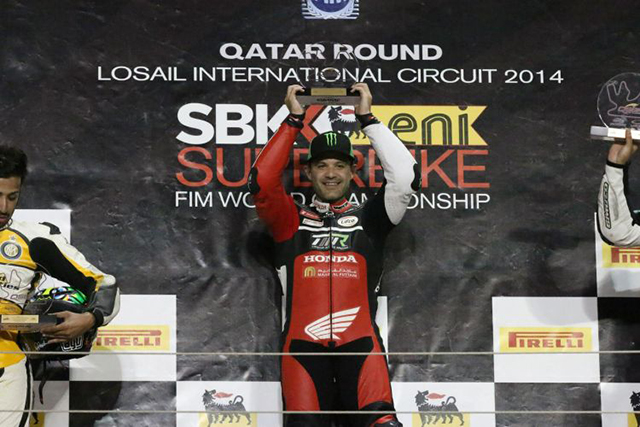 Bikers Café sponsored Mahmoud wins in Qatar!
Losail International Circuit hosted the final round of the World Superbikes Championship last weekend which also included support races or round 2 of Qatar Superbikes. Lebanese rider Mahmoud Tannir managed to finish on the top step of the Supersport 600 class for both races.
"That was an incredible weekend! Although we didn't have enough practice time due to the World Superbikes schedule, but we still managed to improve a little and most importantly finish on top. I'm so proud of the team for what they did this round, the bike is still not perfect and we are struggling a bit in our gearing but hopefully we will sort this out for the next round. It felt awesome to be part of this international event and to receive the trophies from both presidents of the FIM and the Lebanese Federation. I felt proud to show that my country can also compete and win in this demanding sport! Finally I wanted to dedicate this double win to my two daughters whom I had to miss their birthdays, but I did try to make it up with a special helmet livery on live TV for them to see!"
Hoping to continue with this winning form, both TMR Honda and Bikers Café sponsored Tannir will be competing in the opener round of the UAE Sportbikes Championship this November 14th.