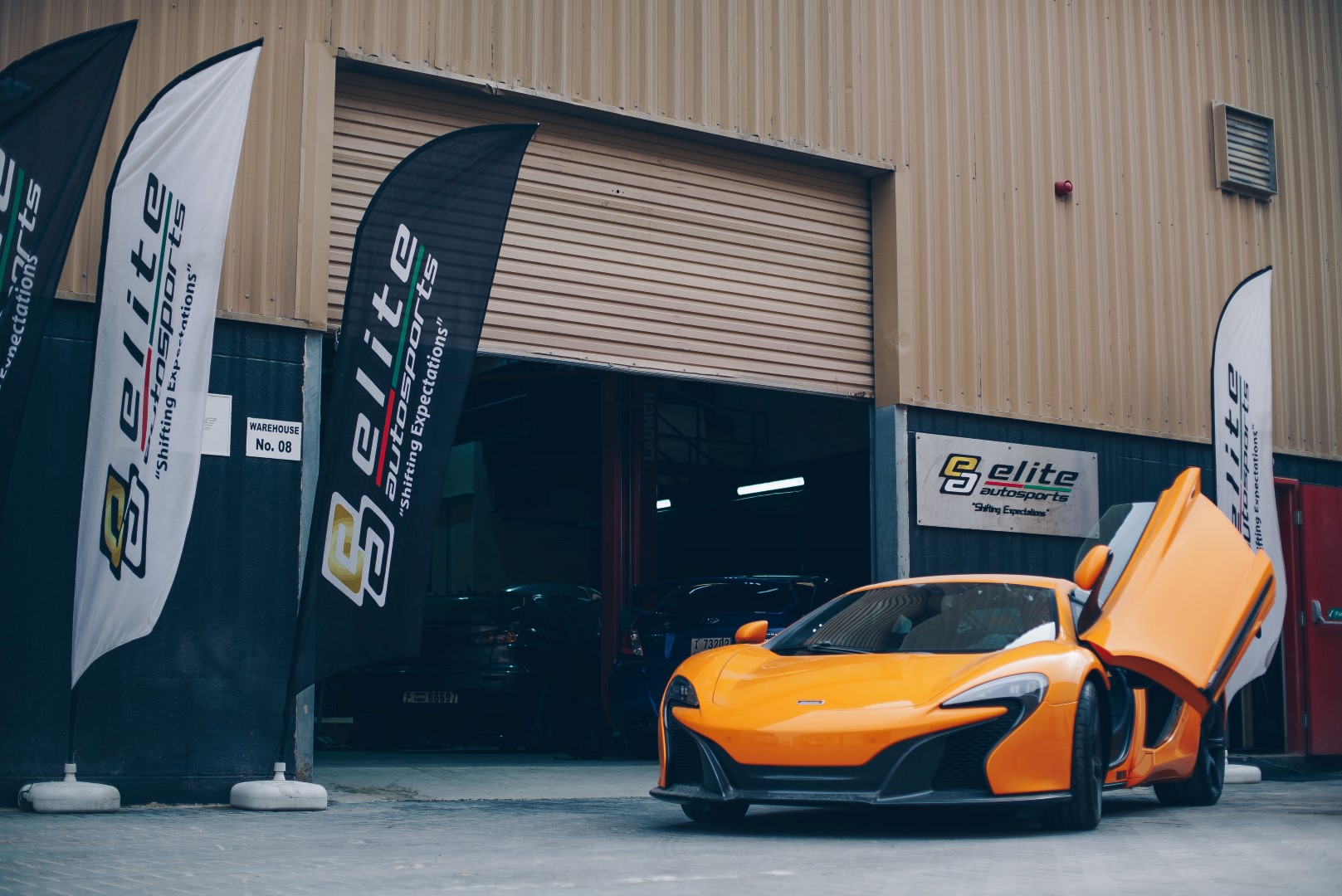 Elite & Elegant: Customize with a Unique Twist
The founders of Elite Autosports are experts in the field of car modification, with years of experience in experimenting various design and performance changes. The company has clients all over UAE and are actively growing across the GCC. Their work includes modifications to suspension, exhaust, wheels, big brakes, body kits and a lot more.
We had an opportunity to sit down with one of the owners, Issamuddin Madhia, and discuss in further detail about the shop's present setting in UAE's automobile scene.

What are some of the core features and values offered by Elite Autosports?

At Elite Autosports, we know that you have a special expectation of yourself and the things that surround you. You have your own style and drive cars that give expression to your way of life. Like for instance, using tuned engines, dynamic chassis components and also make carbon fibre parts. We can turn your vehicle into the individual automobile of your dreams.
Apart from the regular service and maintenance, we can modify or add various aftermarket accessories to your vehicle. We carry an endless choice of wheels / suspension / performance / audio / aero parts etc. for any car.

When did you start Elite Autosports and was there anything in particular that inspired your decision?

Elite was open in January 2016 by Onie Asunción and myself. Few years' back I was at Onie's old garage, working on my Toyota 86, and we just came up with a plan to start a new performance garage together.

Which cars do usually catch your fancy? And what are some of the top cars you currently own?

I'm like a JDM (Japanese Domestic Market) performance lover. Top cars I own would be my Toyota Supra, Nissan GTR, Nissan Skyline R1, R32, Mitsubishi Evolution, Nissan Silvia S13, S14 and a few more.

What do you drive on a daily basis? Is there a specific reason for your choice?

I drive the Audi S8 most often. I know I said I'm a JDM lover but it's because I own a construction business as well, so for meetings especially I would rather take the Audi to present myself well.

What do you have in mind for the future of the company?

The primary idea is to make it a one-stop shop, that has anything and everything needed to maintain or customize a car. We are in collaboration with JDM UAE and the official distributors of AirREX Air suspensions in Middle East. For future events, we plan to have an AirREX Meet. It will be a gathering of all cars that have AirREX air suspensions and we will service them for free on that day.
We also have plans to start working on motorcycles that require custom modifications.

Which is your most complicated build so far?

So far, the Toyota 86 was my most complicated build. But currently we are building 3 cars. One for the Track, one for drag and one for drift and all these will be on AirREX Air suspension. We also have a great adviser, Yousuf Mortas, who is also putting a lot of effort into it and has always got our back. He is also participating with his Monster Evolution 9, completely tuned and sponsored by Elite & AirREX, hoping to set a new track time at the Yas Marine Circuit.

If you had to describe your shop in one word, what would it be?

Elite.
We are certain that the high-end services that we provide will continue making our customers happy with our quality and keep on building our reputation for years to come. We are proud of our brand and all that it stands for.